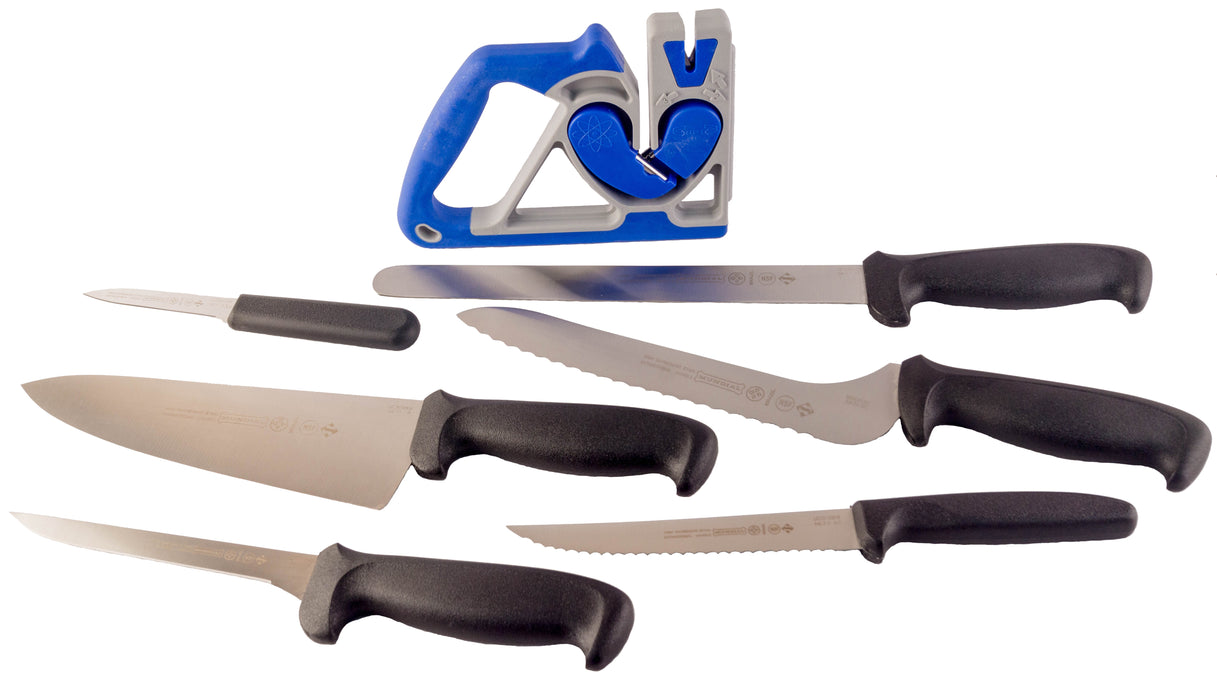 Wolff® Professional Kitchen Knife Set
Save

Liquid error (snippets/product-badge line 32): Computation results in '-Infinity'

%
Overview

The Wolff® Professional Kitchen Knife Set is the perfect gift set for the professional chef, homemaker, professional knife sharpener, and the food service professional including both the MagSharp™ and a set of 6 Mundial® 5600 series professional knives.

Real chefs know that the sharper the knife, the safer the knife. There is no easier way to get your knife sharp than with the MagSharp™ knife sharpener. Other knife sharpeners can be clumsy, dangerous, or they just don't work at all. The MagSharp™ knife sharpener uses the kinetic energy of reverse magnetic polarity technology to achieve a superior finished knife edge quickly and safely. Made in the USA with industrial grade materials, the MagSharp™ offers consistent, professional results safely and easily.

This set also features a variety of Mundial® 5600 series professional knives including a 3.25" spear paring knife, 6" boning knife, 6" utility slicer, 8" wide cook's knife, 9" offset sandwich knife, and a 10" slicer. The spear point paring knife is the most versatile knife in your home or commercial kitchen. The sharp edge of this paring knife can make quick, clean cuts removing corn from the cob, peeling fruits and vegetables, breaking up leafy greens, or cutting beans. The boning knife is great for filleting fish and carving and boning roasts, hams, and lamb with the narrow flexible blade. The utility slicer is most efficient knife for slicing, cutting, and halving fruits and vegetables. This knife is great for acidic fruits given its stainless steel blade. The wide cook's knife is used more than any other knife in the kitchen to dice, mince, slice, and carve food including meats, vegetables, fruits, and herbs. The offset sandwich knife is excellent for preparing small to medium sized sandwiches. The slicer is the most important carving knife in this set typically used to cut cold meats like ham, turkey, lunch meats, and other cold roasts with smooth slicing actions.

---
Features

A lightweight slim design allows for easy storage of the MagSharp™
The MagSharp™ is made from rugged industrial materials for durability
Mundial® 5600 series knives have Sanitized® Antimicrobial Protection to guard against the growth of bacteria, yeast, mold and fungi
Mundial® 5600 series knives carry NSF certification meeting all food service industry standards for sanitation

---
Did you notice?

The MagSharp™ is dishwasher safe
The MagSharp™ has a rubberized grip to prevent slipping, even on most wet surfaces
Mundial® knife handles are ergonomically designed and crafted to provide a secure non-slip grip even when wet
Mundial® carefully matches blades and handles for balanced to minimize fatigue and make food preparation fast, easy and precise
Mundial® knives may be sharpened using the MagSharp™
Mundial® knives may be sharpened many times

---
Recommended For

Professional Chefs, Homemakers, Professional Knife Sharpeners, and Food Service Professionals
Sharpen with the MagSharp™
Commercial, Retail, or Home Use

---
What's in the Box?

MagSharp™
5601-3.25 - Mundial® 3.25" Paring Knife
5622-6E - Mundial® 6" Utility Slicer
5613-6 - Mundial® 6" Boning Knife
5610-8 - Mundial® 8" Wide Cook's Knife
5620-9E - Mundial® 9" Offset Sandwich Knife
5627-10 - Mundial® 10" Slicer

---
Technical Specifications

Item Weight - 2.20 lb
Shipping Weight - 2.55 lb
Item Size - 18" x 4" x 4"
Shipping - Boxed

---
Origin

Mundial Knives Manufactured in Brazil
MagSharp™ Manufactured and Assembled with Pride in the United States of America

---
Warranty

30 Day Money Back Guarantee: If you are not completely satisfied, return the item(s) within 30 days to receive a prompt refund. Returns after 30 days are subject to a 10% restocking fee. Wolff Industries, Inc. reserves the right to make changes or improvements on its products without incurring an additional obligation to make corresponding changes or improvements to products previously manufactured or sold. Wolff Industries, Inc. reserves the right to discontinue products at any time without notice.