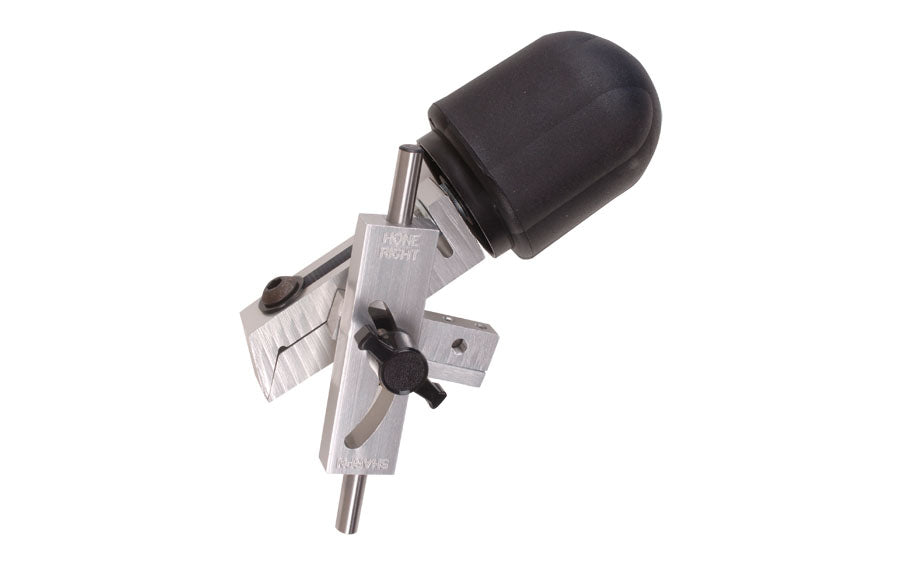 Ookami Gold® Convexing Clamp
Save

Liquid error (snippets/product-badge line 32): Computation results in '-Infinity'

%
Overview
Inspired by professional sharpeners, the Ookami Gold® Convexing Clamp is an accessory for the Ookami Gold® sharpening system specifically designed to sharpen and convex the world's finest high end beauty scissors.
The Ookami Gold® Convexing Clamp speeds up sharpening and polishing time. It does not limit the professional scissors sharpener to a single angle, nor require the repetitious setting of a clamp to multiple angles to achieve a convex or semi-convex edge. Blend and feather the polished edge faster and easier by incrementally stepping up the angle by rotating the clamp.
The Ookami Gold® Convexing Clamp simulates factory sharpening with the benefit of a positive stop to prevent polishing over the cutting edge. The infinitely adjustable angle allows the professional sharpener to uniformly convex the entire blade as desired up to the spine. The detent locks the clamp to an adjustable preset sharpening angle to sharpen a standard bevel edge. The clamp is fitted with an ergonomic knob.
---

Features

An infinitely adjustable angle
Aluminum Construction
Detent
Ergonomic knob


---

Did you notice?
The clamp speeds up sharpening and polishing of convex and semi-convex scissors
The clamp accommodates a variety of blade types and sizes
---

Recommended For
Professional scissors sharpeners
High end beauty scissors
Japanese beauty scissors
Many types of barber, beauty, pet grooming, and some types of industrial scissors
High or low volume scissors sharpening
---

What's in the Box?
Ookami Gold® Convexing Clamp
Ookami Gold® Convexing Clamp DVD
Ookami Gold® Convexing Clamp Manual

---
Technical Specifications
Aluminum Construction
Unit Weight - 0.95 lbs
Shipping Weight - 1.00 lbs
Shipping - Boxed
Package Dimensions - 7 x 10 x 3
Specifications subject to change without notice

---
Origin
Developed, Manufactured, and Assembled with pride in the U.S.A.
---
Warranty
Buy with confidence. Wolff Industries, Inc. Ookami Gold® Convexing Clamps come with the following warranty
30 Day Money Back Guarantee: If you are not completely satisfied, return the item(s) within 30 days to receive a prompt refund. Returns after 30 days are subject to a 10% restocking fee. Wolff Industries, Inc. reserves the right to make changes or improvements on its products without incurring an additional obligation to make corresponding changes or improvements to products previously manufactured or sold. Wolff Industries, Inc. reserves the right to discontinue products at any time without notice.
Disclaimer: There is no expressed warranty other than the limited warranty stated above. There is no implied warranty for the merchantability or for fitness for a particular purpose. Wolff Industries, Inc. will not be responsible for any consequential damages. Damages are limited to the replacement of the defective parts.