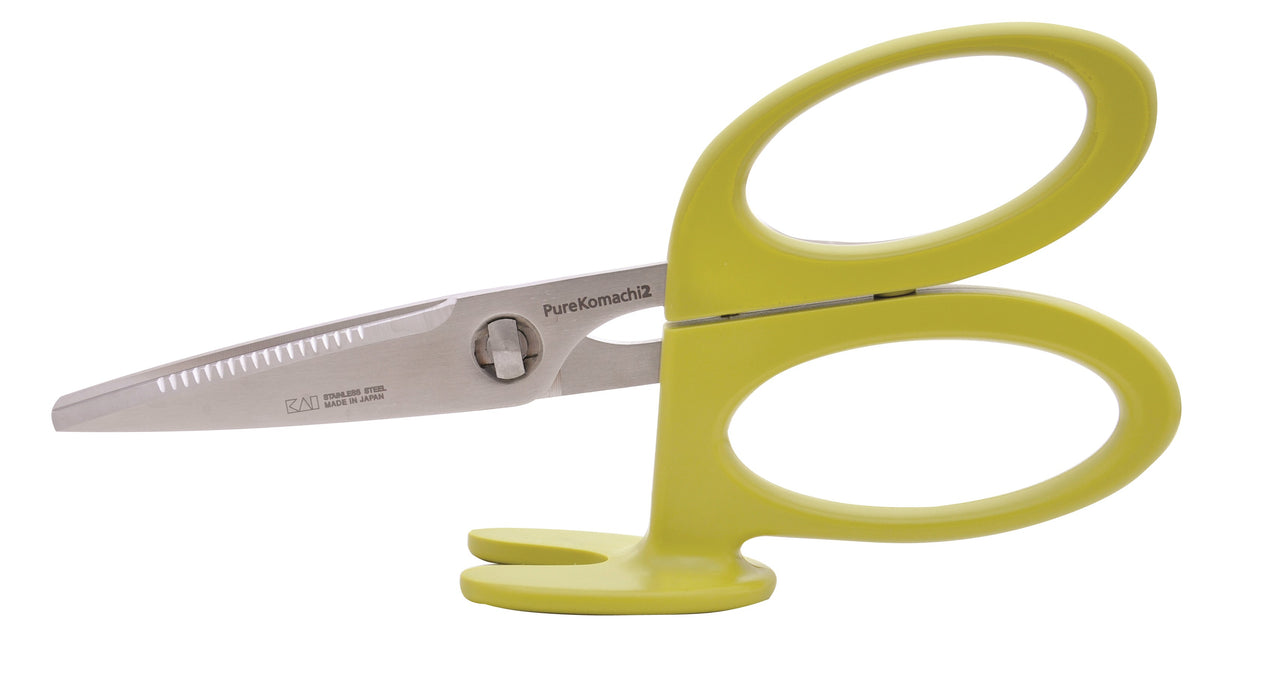 KAI® PureKomachi2 7-3/8" Kitchen Scissors - Stainless Steel Shears
Colors may vary
Overview
Cut all types of kitchen and household materials with the KAI® PureKomachi2 Kitchen Scissors. Stainless steel blades provide extra-long edge life and high cutting efficiency. This shear is stronger and lighter than traditional shears of the same size and features a unique foot allowing the shear to stand freely on a surface for quick use.

KAI® PureKomachi series knives and scissors are versatile products in your home. Cut everything from delicate herbs to meat, and even light-duty materials. Sharp edges make quick, clean cuts. When you finish cutting, the stainless steel T-Nut allows you to separate the scissors for easy cleaning.


---

Features

Ambidextrous
Hard Plastic Handles
Straight Handle
Stainless Steel T-Nut
---

Did you notice?

The foot allowing the scissors to stand up freely on a flat level surface
The t-nut allowing the scissors to "break apart" for easy cleaning
---

Recommended For

Multipurpose use in the kitchen and your home.
---

What's in the Box?

KAI® PureKomachi2 7-3/8" Kitchen Scissors
---

Technical Specifications

ABS Plastic Handles (Heat resistant temperature 175°F)
Stainless Steel Blades
Blade Cut Length - 2 7/8"
Overall Length - 7 3/8"
Gross Weight - 0.26 lb
Net Weight - 0.26 lb
---

Origin

Handcrafted in Japan
---

Warranty

Buy with confidence. If you are not completely satisfied, return the item(s) within 30 days to receive a prompt refund. Returns after 30 days are subject to a 10% restocking fee. Wolff Industries, Inc. reserves the right to make changes or improvements on its products without incurring an additional obligation to make corresponding changes or improvements to products previously manufactured or sold. Wolff Industries, Inc. reserves the right to discontinue products at any time without notice.