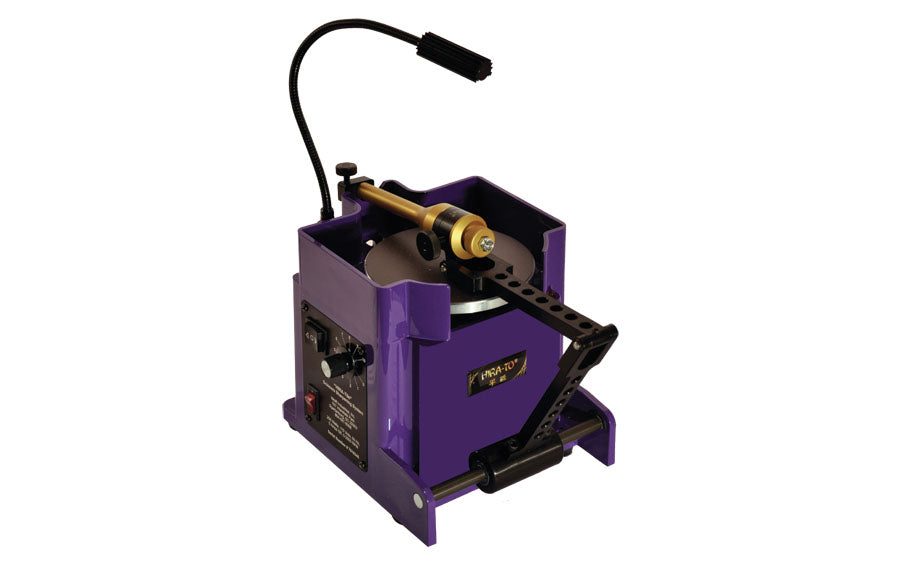 Hira-To® Flat Hone Scissors Sharpener with Hook and Loop Discs
Save

Liquid error (snippets/product-badge line 32): Computation results in '-Infinity'

%
Overview

When you want to provide the absolute best edge possible on high end convex shears, look no further than the Wolff Industries Hira-To® Scissors Sharpening System. The Hira-To® is designed to sharpen and convex beauty, barber, and grooming scissors. It is easier, faster, and more precise when sharpening convex scissors than traditional systems.

The Hira-To® is a single head flat hone designed to recreate the factory look and edge on high end convex or semi-convex beauty, barber, and grooming scissors. It was developed with a focus on the fixture and arm assembly. The Hira-To® fixture is ergonomically contoured to fit the natural curvature of the sharpener's hand offering sharpeners of many skill levels the opportunity to match the free-hand style used by Japanese bladesmiths. Both right and left hand shears can be sharpened at any angle ranging from 25° to 65°.

This sharpener is the most advanced single head flat hone on the market with multi-direction switching, 0-2500 RPM variable speed, and electronic shaft break. It is compatible with pressure sensitive adhesive discs or hook and loop discs.

All scissors sharpeners come with a comprehensive training DVD that will walk you through the steps of sharpening numerous shears. This exhaustive training tool will teach you how to properly use your new sharpener and produce quality results every time!


---
Features

Creates a perfect convex or semi-convex edge
Accommodates many blade types, shapes, sizes, tapers, and angles
Sharpens right and left hand scissors
Hook and loop discs

---
Did you notice?
The rotating head and shaft contoured for comfort.
The forward, stop, and reverse variable speed drive.
The LED quick connect lamp.

---
Recommended For
All types of barber, beauty, and pet grooming scissors
High or low volume scissors sharpening
Retail, home, or industrial use
---
What's in the Box?
Hira-To® Scissors Sharpener
Hira-To® Diamond Paste
Hira-To® Felt Pad with Plate
Hira-To® Instructional Training DVD
Hira-To® Operator's Manual
Hira-To® Quick Change Plates (5)
9 Micron Hook and Loop Discs (6)
15 Micron Hook and Loop Discs (6)
30 Micron Hook and Loop Discs (6)
60 Micron Hook and Loop Discs (6)
80 Micron Hook and Loop Discs (6)
Shapton® 6000 Grit Ceramic GlassStone
Waterstone Holder
Practice Beauty Shears
Deluxe Screw Pliers Kit
Repair Parts Kit
Set Adjusting Tool
Scissors Lubricant
Safety Glasses
Dust Mask

---
Technical Specifications
Shipping Weight - 28 lbs
Shipping - Boxed
Package Dimensions - 20 x 12 x 12
Power Source - Corded Electric
Plug Type - Three Prong
Voltage - 110 V, 220 V
Amperage - 5 A
Wattage - 200
Frequency - 60 Hz, 50 Hz
Speed - 0 - 2500 rpm
Phase - 1
Plate Outer Diameter - 6 in
Plate Inner Diameter - 0.375 in
Sharpening Angles - 25 to 65 degrees
Specifications subject to change without notice

---
Origin
Manufactured and Assembled with pride in the U.S.A.

---
Warranty
Buy with confidence. Wolff Industries, Inc. Hira-To® scissors sharpeners come with our best warranties.
30 Day Money Back Guarantee: If you are not completely satisfied, return the item(s) within 30 days to receive a prompt refund. Returns after 30 days are subject to a 10% restocking fee. Wolff Industries, Inc. reserves the right to make changes or improvements on its products without incurring an additional obligation to make corresponding changes or improvements to products previously manufactured or sold. Wolff Industries, Inc. reserves the right to discontinue products at any time without notice.
Limited Warranty: Two year warranty from date of purchase against defective parts or workmanship with the exception of the sharpening, buffing, honing and polishing discs. Warranty limited to replacement of parts. Buyer must return warranty card to manufacturer for coverage of warranty. This warranty covers only the original purchaser. Use of non-factory parts voids any warranty. This warranty gives you specific rights. You may also have other rights which may vary from state to state. Some states do not allow limitation or implied warranties or consequential damages, so these may not apply to you.
Disclaimer: There is no expressed warranty other than the limited warranty stated above. There is no implied warranty for the merchantability or for fitness for a particular purpose. Wolff Industries, Inc. will not be responsible for any consequential damages. Damages are limited to the replacement of the defective parts.