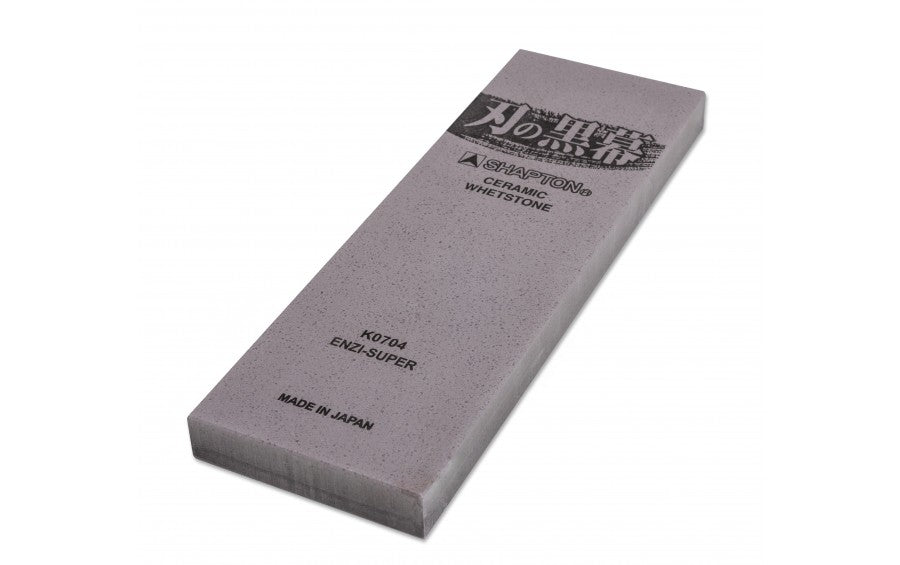 Shapton® Kuromaku Professional Ceramic Whetstone - Wine 5000 Grit
Save

Liquid error (snippets/product-badge line 32): Computation results in '-Infinity'

%
Overview
The Shapton® Kuromaku series of sharpening stones is the world's first set of colour-coded sharpening stones indicating different grades of sharpening media. Shapton® stones can form an edge in little time due to their high abrasive content.
The stone lets users enjoy the sharpening experience as they pursue the ideal finish working the inside of convex and semi-convex scissors. This series of stones can be used as water stones or oil stones.
This type of sharpening stone is often referred to as ceramic whetstone.

---

Features
Colour-coded
Superior Japanese Construction
Ultra-fine Polishing for a Smooth Finish
---

Did you notice?
Ready to Use
Sharpens Faster
Can Be Used as Water or Oil Stone
---
Recommended For
Professional scissors sharpeners
Advanced scissors sharpeners
High end beauty scissors
Japanese beauty scissors
Convex and Semi-Convex scissors
High or low volume scissors sharpening
---

What's in the Box?
Shapton® Storage Case / Sharpening Base
Shapton® 5000 Kuromaku Wine Ceramic Whetstone
Shapton® Care Instructions
---

Care Instructions
Do not leave stone in water. Doing so may damage the stone. To use the stone, just splash water on it as needed.
Do not leave stone in the sun. Store the stone indoors, out of direct sunlight, instead.
Do not dry the stone with a fan. Doing so may cause hairline cracks to appear on the surface of the stone.
Do not subject stone to extreme temperature. Store the stone indoors at room temperature.
Do not wash stone with hot water. This may damage the stone. Use cold or lukewarm water instead.
Do not was stone with soap or detergent. This may damage the stone. Use water instead.
Do not put in the dishwasher. This may damage the product because of clashing or too much heating.
---

Technical Specifications
Mesh - 5000
Unit Weight - 1.40 lbs
Shipping Weight - 2.0 lbs
Shipping - Boxed
Product Dimensions - 8.375 x 2.75 x 0.625 (210mm x 70mm x 15mm)
Boxed Dimensions - 8.75 x 3.5 x 1.5
Specifications subject to change without notice
---

Origin
Expertly crafted in Japan
---

Warranty
Buy with confidence. Shapton® stones come with the following warranty
30 Day Money Back Guarantee: If you are not completely satisfied, return the item(s) within 30 days to receive a prompt refund. Returns after 30 days are subject to a 10% restocking fee. Wolff Industries, Inc. reserves the right to make changes or improvements on its products without incurring an additional obligation to make corresponding changes or improvements to products previously manufactured or sold. Wolff Industries, Inc. reserves the right to discontinue products at any time without notice.
Disclaimer: There is no expressed warranty other than the limited warranty stated above. There is no implied warranty for the merchantability or for fitness for a particular purpose. Wolff Industries, Inc. will not be responsible for any consequential damages. Damages are limited to the replacement of the defective parts.