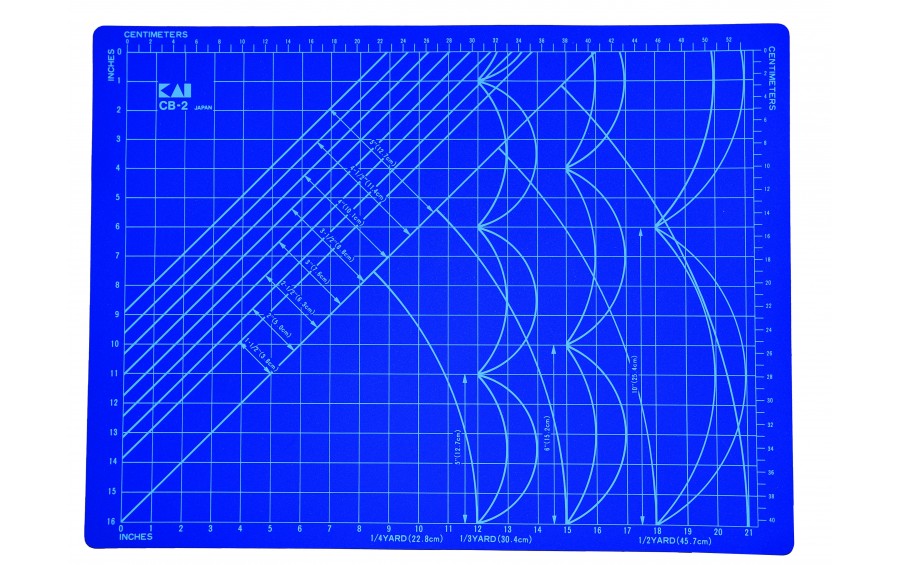 KAI® CB-2 MEDIUM CUTTING MAT
Overview

The KAI® Medium Cutting Mat provides a unique self healing Dura-Heal rotary cutting mat intended for people who enjoy embroidery, sewing, dressmaking, arts, and crafting. This mat is excellent for cutting cloth, leather, vinyl, film, and paper.

The mat protects both your tabletop and blades thanks to the DuraHeal technology that does not dull blades. The mat is made with high quality Japanese materials and features highly accurate grid lines in both imperial and metric units.

The KAI® Medium Cutting Mat features a cut area of 16" x 21"

---
Features

Dura-Heal self healing surface
Imperial and metric unit grid
Medium Size

---
Recommended For

Embroidery, Sewing, Dressmaking, Crafting, Homemaker, and Professional Scissors Sharpener
Retail or Home Use

---
What's in the Box?

CB-2

---
Origin

Manufactured and Assembled with Pride in Japan

---
Warranty

30 Day Money Back Guarantee: If you are not completely satisfied, return the item(s) within 30 days to receive a prompt refund. Returns after 30 days are subject to a 10% restocking fee. Wolff Industries, Inc. reserves the right to make changes or improvements on its products without incurring an additional obligation to make corresponding changes or improvements to products previously manufactured or sold. Wolff Industries, Inc. reserves the right to discontinue products at any time without notice.